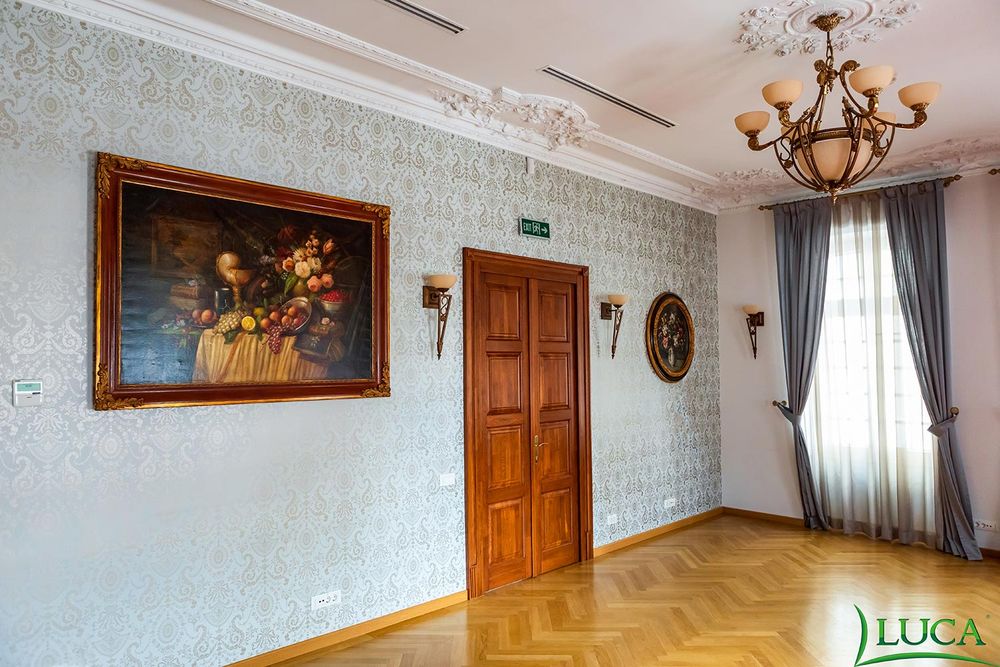 Author: LUCA Global Group • 2020
In the first part we approached the exterior joinery designed for old buildings, those with the status of historical monument, rustic houses and, in general, buildings that belong or adopt a classical style.
Watch here: Laminated wood exterior joinery for classic buildings
The interior joinery refers to the interior doors, LUCA being specialized in this type of products, having in its portfolio several references of this type
It should be noted that, in terms of interior doors, the difference between modern and classic is given by the internal structure, in addition to their design. Therefore, for a classic door, the structure is entirely made of wood with boards, compared to modern ones, which are made of a structure of HDF or MDF panels painted or veneered, the whole wood being only in the composition of the jamb and the frame. Modern doors, as a rule, have a simpler design than the classic ones.
Regarding the characteristics of classic laminated wood doors, there are two types of jambs - simple / fixed and adjustable - which are divided into two subcategories:
Simple - inserted into the wall gap
Simple - with a fixed ledge on one side
Adjustable - depending on the thickness of the wall, with ledges on both sides and lining
Adjustable - depending on the thickness of the wall, with the coffered lining
For the coffered lining, the wall thickness must be at least 25 cm. The door frame is 42 mm thick, the door plates are 21 mm thick.
The available essences are: Spruce, Pine, Oak or Meranti.
Hardware - 3D hinge diameter of 16 mm, selectable locks and handles. Possibility to equip with Mandelli, Hoppe or Tolosa handles.
Surface treatment for wood - water-based coating (3 coatings of paint) according to the tone chart or RAL palette 2 coats of protective varnish.
The range of doors can be customized according to the needs of each customer, from sliding systems, folding systems, double systems to secure exterior doors.
In LUCA's portfolio there is The Registry Office of the 3rd District (former Casă Eliad), a building with the status of a historical monument. In the architectural rehabilitation of the building were used double oak windows, on a 68 mm profile with 24 mm double glazing, and classic 40 mm profile and plain glass were used on the window exterior, to enhance the specificity of the classic design of the building.
The interior joinery consisted of Oak doors with coffered lining and window sills with ornaments, respecting the line of the classic style.