High-performance wood-aluminum window system for modernizing wooden windows. Many intelligent details and the use of accessories of existing systems make CORA a global economic system.
The GUTMANN CORA system can be designed as a double flap, single flap or angular flap.
The CORA wood-aluminum system is based on the basic construction for standard wooden windows "IV 68" with a wood thickness of 68 mm per sash and frame. Therefore, no investment is required in special milling tools for the production of the wooden frame.
The bottle is completely taken in the wooden box. Therefore, the insulating glass edge is excellently insulated against unwanted heat loss. The glass is exchanged from the inside by loosening the glass strip.
Aluminum housing is a weather protection and an architectural element that can be freely designed in terms of color. The wooden frame ensures stability, excellent thermal insulation and gives the house a pleasant, familiar character.
The aluminum frames are ventilated from the back and are attached to the wood with stable supports without tension: This allows the wood to breathe and the aluminum frame can expand without obstacles in case of temperature fluctuations.
The widths of the coordinated profile allow the continuous edges of the outer frame for perfect connections with the wall and plaster.
With variable profiles, couplings and assembly-friendly production segments, economical constructions are easy to implement.
System Properties / Thermal Insulation: All the properties of the wooden window system used are preserved by the aluminum cladding.
Be inspired by GUTMANN EXCLUSIVE COLORS and give your object a unique, special look. Whether elegant silver, warm red, soft dark gray or radiant white - with these trend colors from GUTMANN there is something for every taste. Find your favorite shade or combine it with another color to implement the BICOLOR look.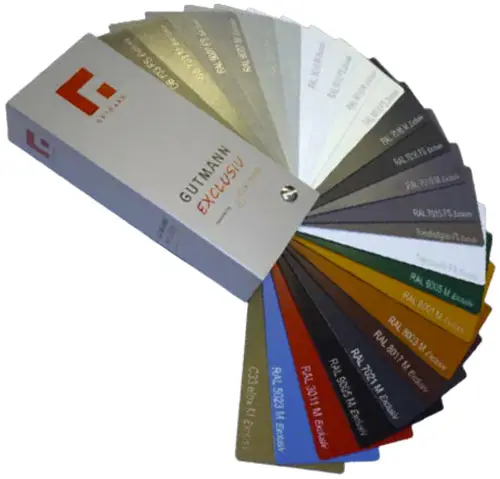 Bld. 1 Mai, No. 1, 077020, Berceni, Ilfov, Romania